Global Real Estate DEI Survey 2022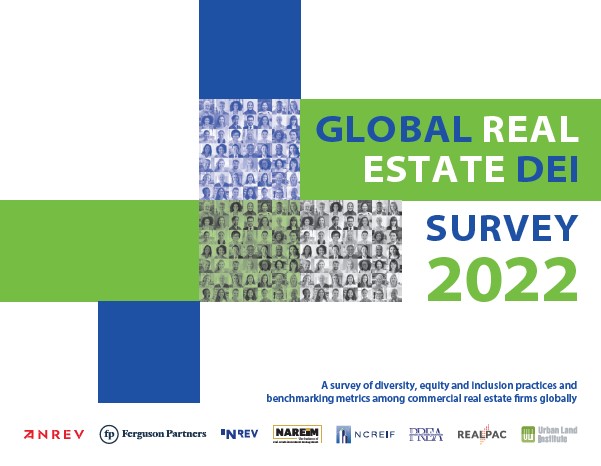 Diversity, equity and inclusion (DEI) initiatives are broadening among commercial real estate companies, according to the results of The Global Real Estate DEI Survey 2022, released by ANREV, INREV, Ferguson Partners, NAREIM, NCREIF, PREA, REALPAC and ULI.
The Survey also reveals the gender composition of the CRE industry, by region, and for the first time reports non-binary demographics for North America.
Key findings from the Global Real Estate DEI Survey 2022 include:
DEI programs and measurable outcomes
95% of respondents are addressing issues of DEI either by having a formal program or by enacting initiatives and policies to improve the representation of women and underrepresented groups.
Among respondents that have a formal DEI program, more than 85% set qualitative and/or quantitative or measurable goals, and, over the next 12 months, 11.1% that do not say they plan to do so.
The main goals are increasing the representation of underrepresented groups at the senior level and improving employee engagement.
Recruitment, retention and pay equity
Anti-bias measures are important for recruitment and retention, with a third of respondents planning to ensure managers receive training on anti-bias hiring within 12 months.
A key strategy for retaining talent from underrepresented groups is to outline job requirements very clearly and set unambiguous expectations.
Gaining feedback is another important tool. Almost three-quarters of respondents seek feedback on DEI initiatives from their employees.
CRE companies are also tackling pay equality in greater numbers. In 2021, 79% of respondents were analyzing pay gaps based on gender or planning to do so. The figure has risen to 85% in 2022. Europe leads this analysis with 84% of respondents in Europe currently monitoring pay equity compared with 66.7% and 68.6% of Asia-Pacific and North American respondents, respectively.
According to the DEI Survey 2022, firms of all sizes are working on levelling the pay gap.
The Executive Summary can be found here: Global Real Estate DEI Survey 2022.