2023 MSCI/REALPAC Canada Real Estate Investment Forum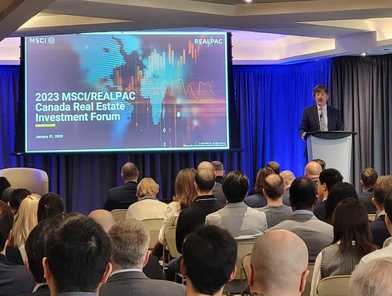 REALPAC and MSCI hosted their annual Canada Real Estate Investment Forum in-person on January 31, 2023.

The results were revealed for the 2022 MSCI/REALPAC Canada Annual Property Index (Unfrozen) (the "Index"), which tracks the performance of 2,370 property investments with a total capital value of CAD $172.8 billion as at December 2022. The Index allows investors, fund managers and consultants to track the performance of their assets against like-for-like comparables and monitor the ongoing risk of their real estate exposures.

The headline return for the year ending December 2022 was 2.33%, a decrease from 7.90% in 2021. The income return was 4.35% and the capital growth return was -2.9%. The Q4 2022 all assets total return for Canada was -2.07%, with an income return of 1.07% and a capital growth return of -3.89%. The standing investments total return, which reflects stabilized, income producing assets that excludes development and land, was -2.85%.

In sector and city trends, it was noted that all sectors are trending downward. Industrial returns were at 17.1% [a decrease from 31.6% in Q4 2021], and Residential returns also down from the previous quarter, at 4.8%. Both Retail and Office had negative returns at -3.9 and -5.8 respectively. In terms of geographic performance, Halifax was the best performing market at 8.3%, followed by Edmonton (2.4%), Montreal (1.9%) and Calgary (1.5%). Ottawa, which was the only market without a negative return in Q4 2021, had a -2.0 return in 2022. The lowest return was Winnipeg at -4.1%. Toronto, one of the 2 best performing markets in 2021 with a 10.8% return, had a significant decline with a 0.7% return as of December 2022. Capital growth was negative in all the cities set out by MSCI, apart from Halifax. MSCI reviewed the returns for the MSCI/REALPAC Canada Property Fund Index, and noted that annualized returns have started a downward turn since June 2022. MSCI also provided research insights on deal volume, sector specifics and a changing financial environment.

It was an engaging in-person event with an expert panel discussing the index results and implications for the year ahead, sector specifics and the future of real estate.